Linkage Analysis™
Rahal Consulting's Linkage Analysis™ is both a planning and an analytical tool. This methodology presents a road map from which to engineer any one of several business functions:
Planning and setting strategy
Developing relevant and targeted tactics
Conducting analytical evaluation
Running a meeting, etc.
Achievement in business starts with the objective – valid, concise and fully understood. Without a clear objective, any road will take you anywhere …. without concern for efficiency or effectiveness.
Business today is too difficult and too expensive not to engage all activities, resources and efforts toward the objective.  Too often conversations get sidetracked. Nothing gets accomplished. Attendees leave asking what the purpose was or what was accomplished.
The only way to measure the success of a strategy or a meeting is to objectively assess the outcome and execution of action items. To achieve this goal, the focus must be kept on the objective. Discipline must permeate throughout the process.
This simple process, Linkage Analysis, is the blueprint for that discipline.
In Lewis Carroll's "Alice in Wonderland", Alice meets the Cheshire cat.
"Cheshire Puss," she begins, "Would you tell me, please, which way I ought to go from here?"
"That depends a good deal on where you want to get to," said the Cat.
"I don't much care where" said Alice.
"Then it doesn't matter which way you go," said the Cat.
Managers focus on the short term & bottom line; Leaders focus on the horizon.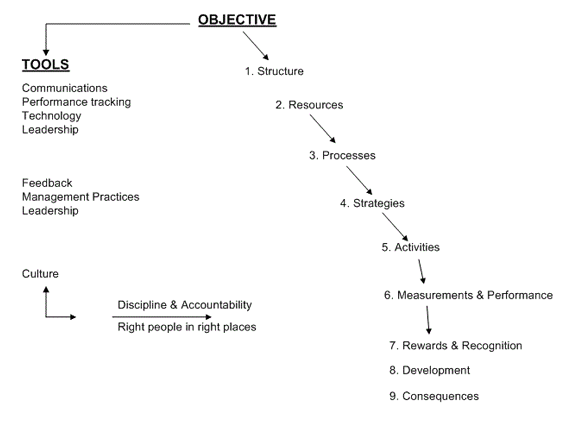 For assistance with your sales commission programs, contact Joe Rahal from our Contact page